Table of Contents:
How long does it take to open the door when breaking into an apartment?
How to protect yourself from burglary
What should be a good armored entrance door
Parameters of a good armored door against burglary by thieves
What kind of locks should be there in an armored door
Recommendations for locks in an armored door
The best lock replacements
Electronic lock as protection against a thief
Conclusion
This article will tell you why you should be very careful about protecting yourself and your apartment from burglary. We will choose the best locks and doors on the market and advise on what design and characteristics of the door can deter a thief.
We will consider the main methods of protection and options for reducing the likelihood of a break-in of your apartment or house or especially a house for sale. This is a complete material on burglary and guards against them for 2021.
How long does it take to open the door when breaking into an apartment?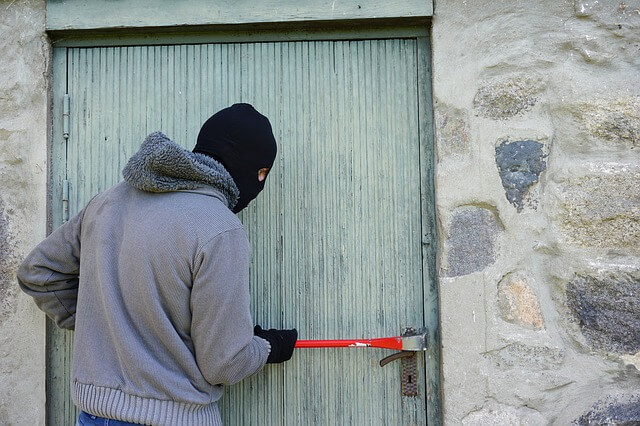 Most of the doors installed in ordinary apartments will take up to 5 minutes. With simple locks and doors, it will take a professional up to 2 minutes. With very simple locks and doors, breaking will take about 20 seconds. It all depends on the preparation of the thief, on the tools used, and on the locks in your door.
Serious doors with serious locks are opened in an hour. There are no more than 5% of such doors installed in Ukraine. You need to understand that you can open any door with master keys or wring out in the Ministry of Emergency Situations style – it's a matter of time and desire.
But every minute when opening by thieves is your protection, and there is a possibility that they will refuse to hack or someone will scare the thief.
How to protect yourself from burglary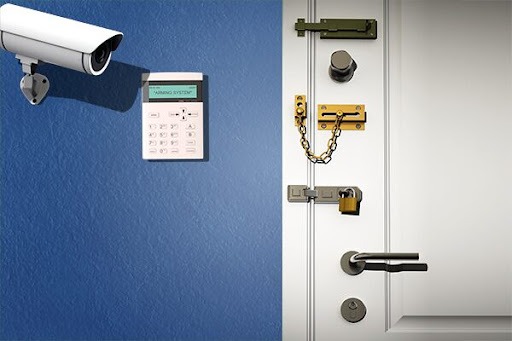 To avoid becoming a victim of such burglary hacks, you need to lead a more secretive lifestyle and tell others less about big sales and possible purchases.
Do not brag about the upcoming vacation and expensive things on social networks.
Do not tell anyone any information about the valuables and the place of their storage. In every case, when a stranger learns about your valuables, there is a risk of losing them. For example, during a conversation, an instructor from a fitness club accidentally learns from you that you have just sold your car and are keeping money at home.
Then they will divide this amount among themselves, and you will lose the property. In each case, it is better to talk less and be careful. It is caution and secrecy that will save you from theft on a tip.
As you can see, there are many methods of taking away money and valuables. Through the window, you can climb to any floor, not just the 1st or the last.
None of the neighboring houses or passers-by will be alerted by the construction climber on the next building, a burglar thief.
What should be a good armored entrance door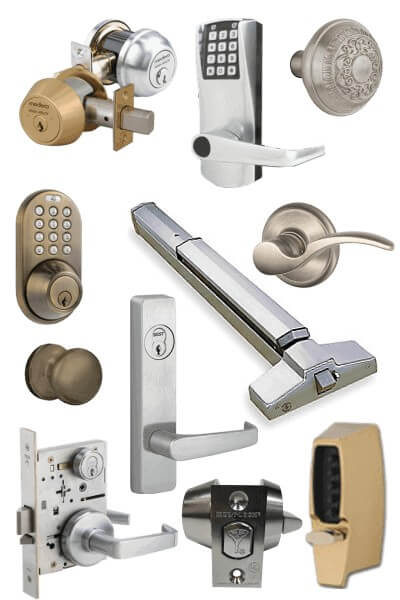 The door is the backbone of all protection for your apartment. Only after the door and good locks come the other methods such as burglar alarms and video surveillance.
In the overwhelming majority of cases, burglars will use and test your door with locks for burglary, and your safety and peace of mind depend on them.
The door should protect your locks, and the locks should protect the door from being opened. It is in this tandem that protection works.
Protection should be comprehensive. If you decide to install good complex locks, then you need to choose the right door.
Parameters of a good armored door against burglary by thieves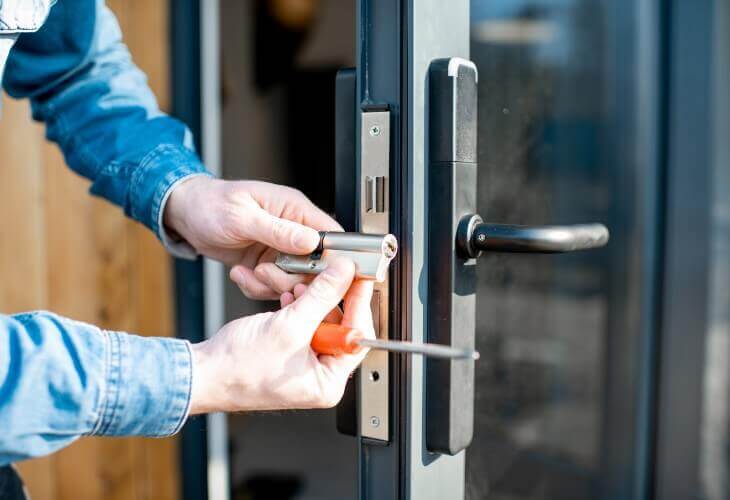 Here the rule applies – the thicker the metal in the structure, the better. The thicker the metal, the more expensive the doors are, but if you think this is your safety, it is sometimes worth overpaying.
Let's consider the specific parameters of a good basic level door. At each point, it is better if the thickness is higher. The thicker the door, the more difficult it is to break it down and squeeze it out.
Points to be Noted:
The thickness of the outer sheet of metal is 2-3 mm.
A door frame with a thickness of 80 mm from a corner with a thickness of 4-6 mm, a pipe of 2-3 mm, or a channel from 4 mm.
Lock pocket with additional reinforcement with metal sheets in the area of ​​locks made of 2-3 mm armor plate for each lock.
Protection of the crossbars of the lock – the porch, where the crossbars are extended, must be protected by a box with a metal thickness of 2 to 6 mm.
Anti-cuts from 2 to 4 pieces will help protect the door from cutting the hinges.
Steel frame with 4-8 stiffening ribs from 2 to 4 mm thick.
Correct installation and fastening points in the opening are very important. There is no point in putting doors into aerated concrete walls without reinforcing them with a metal structure.
The above are the main important parameters. You need to pay attention to them, but first of all, it is the thickness of the metal on the box and in the door itself.
These are basic parameters, and the protection of your locks and the reliability of the entire structure depend on them. Comparing the above parameters with what manufacturers of mass doors usually offer, you will be surprised.
Their metal thickness rarely reaches 1.5 mm, and the main emphasis is on design, but the design of the door will not help you protect yourself from thieves, and you need to understand this.
You buy a door one time, and for many years, it seems to me, it is not worth saving because the values ​​in the apartment and your safety are much more expensive.
What kind of locks should be there in an armored door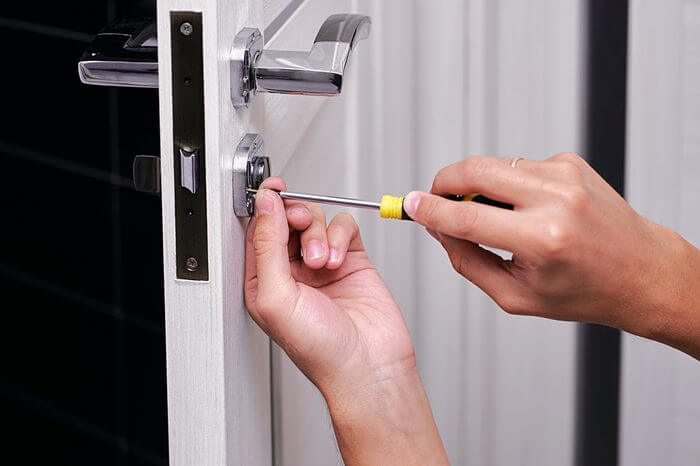 When buying and ordering an armored door, you will most likely be offered basic locks and standard equipment. To reduce the cost of the product, the manufacturer uses the simplest and cheapest waves that do not pose any problems for thieves to open. Therefore, the choice of locks and their installation must be approached very responsibly.
It is better if the locks are selected before ordering the door. This is the correct option. Based on the chosen locks' parameters, the door structure is assembled, and the necessary holes are cut in the canvas.
If you buy a ready-made door, turnkey holes, pockets, and cutouts for the crossbar will differ, and the door will not be protected.
Recommendations for locks in an armored door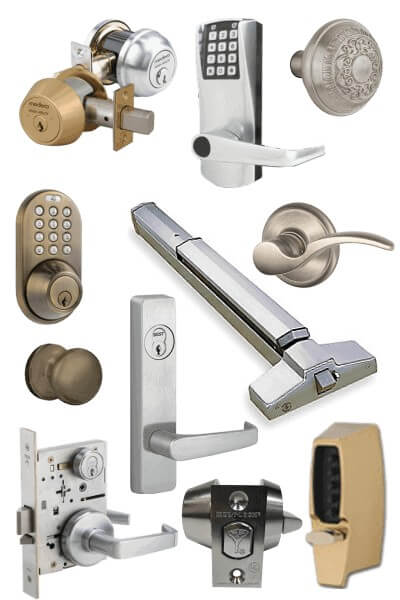 You should choose the ones that inspire confidence in you and are suitable for the price. There is no best lock.
Advice – it is better to buy locks of the latest lines and recently released models. If the lock was released recently, then most likely, the method of breaking it has not yet been fully developed, and many burglars will face great difficulties in opening it. To pick each lock, preparation and experience are important.
If the burglar has not opened a similar lock model before and has an unusual design, then there is a high probability that your door will not be opened. Thieves open common cheap locks with their eyes closed in 1 minute.
The best lock replacements
A secret part is additionally purchased for the cylinder locks – a replaceable cylinder. It makes no sense to buy a good cylinder lock and a cheap cylinder for it – it opens in seconds. But it is very important to place the larva under a reliable armored lining because the main vulnerability of the cylinders is a mechanical impact and a fracture in half.

In addition to the choice of the lock, its direct installation and the option of installing it in the door leaf also have a very big influence. It is better if an experienced craftsman is engaged in the installation, which will be done at the door manufacturing plant.
How to choose locks for installation in an armored door
The choice of locks is an individual matter; there is personal preference and trust in a particular lock, its design, and manufacturer. There is a rule – to install locks of different systems on the door. This means that the upper can be a cylinder and the lower lever lock.
You can also install a lock with a tubular key as a third added. This will complicate the life of a thief as much as possible – not everyone has the qualifications and master keys to open locks that are completely different in design.
You need to choose locks and doors based on your wishes and possibilities for the price. Each lock from the ones presented above has its significant advantages and can be recommended for installation in armored doors. Choosing your set of locks from the suggested options above, you can't go wrong.
Electronic lock as protection against a thief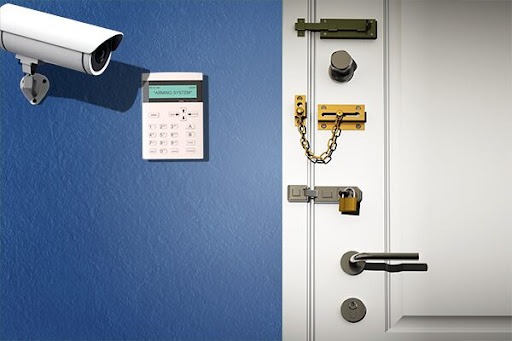 An electronic lock is a device that pulls the bolt from the key fob on your keys. In some cases, as additional protection, such locks can be useful.
Their cost starts from $ 100. But they are useful only in one case – your locks were opened using a clean method – with master keys, self-impression keys, and other tools, which is quite unlikely with really reliable locks and their correct installation.
It makes sense to install them exclusively indoors with thick, reliable metal.
Because otherwise, the doors will be wrung out, and the electronic lock will only slightly increase the break-in time, and in a thin door, it will be useless at all. You can use invisibility as a third additional lock to the two main ones.
Conclusion
You can open and break anything you want, but the difference between cheap and high-quality doors with good locks will be significant. Thin doors are opened in 1-5 minutes, and high-quality doors can take up to an hour, and not everyone can open them cleanly.
A thief will not want to poke around in the castle or wield a crowbar, making noise for 60 minutes. It is very dangerous and attracts too much attention.
It's up to you to overpay or not, but protection is never excessive. In most cases, good locks are not opened but work mechanically, breaking structures.
But good locks and doors will provide optimal protection. Of course, you need to remember that on a tip, they can climb through the window or open the door with your keys, holding a gun to you. But doors will protect you from 95% of thieves and accidental problems.