The Times Square Mall & Residencia is a high-end retail and residential development that is pushing luxury living to the next level. Strategically situated near Bahria Orchard in Lahore, it is in a premium setting with convenient access from all areas of the city. The Times Square Mall and Residencia aim to provide stunning ultra-luxury residences in Lahore with top-notch utilities. It offers a prestigious and appealing ambiance. You will be greeted by a spectacular entryway. A splendid reception welcomes you in an opulent lounge area as you enter the imperial splendor of Times Square Mall & Residencia. The dark-hued hardwood atmosphere is aesthetically pleasing and gives a comforting impetus.
Apartments at Times Square Mall & Residencia
Times Square Mall & Residencia offers apartments in Lahore with a modern lifestyle that is above excellence. These 1-bedroom and 2-bedroom apartments are equipped with all the facilities you may need. You will get such a cozy and contemporary setting that let you forget everything else. You will be greeted with an opulently decorated, incredibly quiet place of refuge when you go home from a long day. Every room at the Times Square Mall & Residencia has a relaxing, tranquil feel to it, with gentle palettes of warm colors used throughout, from walls and ceiling to sumptuous interiors. All these amenities show that it is worth investing in Times Square Mall & Residencia apartments. You can experience living in paradise.
Lavish Apartments
Apartments have their own elevators.
World of Extravagance
opulent lounge
Futuristic kitchens
Bedrooms with an intricate look
Classy bathrooms
Apartments Plan:
A 1-bedroom luxury apartment will have a bedroom, bathroom, a small open kitchen space, and lounge.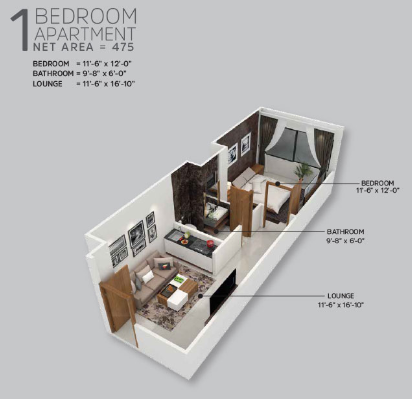 A 2-bedroom luxury apartment will have 2- bedrooms with an attached bath, a kitchen, lounge, and a terrace which is sufficient for a small family.
You can also enjoy living in a penthouse apartment at Times Square Mall & Residencia. A penthouse apartment will have 2 bedrooms with attached baths, a powder bathroom with a lounge, an open kitchen, and a spacious terrace to enjoy a fine evening with your family and friends.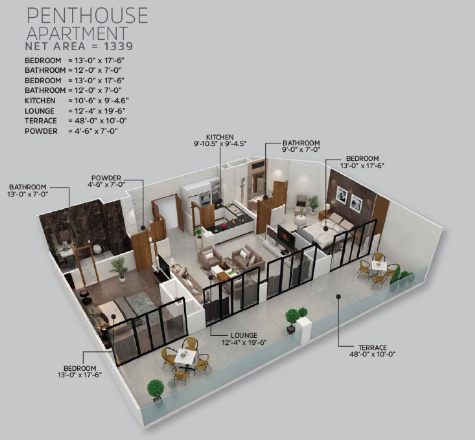 Best Shopping Hub:
If you are a shopaholic then Times Square is the best to provide you with an experiential shopping adventure.  If you are an investor then know that Times Square Mall & Residencia's magnificent shopper's utopia. It is ideal for brands to become big amid Pakistan's major retail labels. Profits will increase as a result of your business visibility at the shopping mall. You can invest in commercial shops now at the mall and enjoy lifetime profits later.
High-end Corporate offices:
Apart from shops and apartments, you can also invest in high-end corporate offices at Times Square Mall & Residencia. All the offices will be designed according to modern interiors to give you a modern and lavish working experience. Social cohesion is essential for any company. With more breakout rooms, more innovation in shared spaces, and more consideration put into encouraging employees to interact more efficiently around each other, luxury offices generally give you more freedom for how you bring people together. You can work without any noise or disturbance. These high-end offices will welcome you to the world of luxury. 
It has a high-end lifestyle
Times Square Mall & Residencia is the desired blend of a fantastic location and state-of-the-art luxuries and services, offering an amazing fusion of budget and luxury. The project will provide well-designed and large deluxe 1 and 2-bedroom apartments, retail shops, and corporate offices. All these luxurious facilities are making it an ideal option for property investment in Lahore.
Overview of Amenities at Times Square:
Shops
Extravagant apartments
Penthouse apartments
Contemporary style corporate offices
Speedy lifts and accelerators
A sky-high terrace with a spectacular city view
Eateries and a swimming pool are located on the roof.
Open-air sun deck
High-end gymnasium
Play area for kids
Designated prayer space
Security system with a surveillance camera that is operational 24/7.
Pricing:
Times Square Mall & Residencia is bringing modern living and one of the best yet affordable investment opportunities in Lahore. You can check their payment plans to buy apartments, book shops, or corporate office spaces according to the following payment plan or check further details here!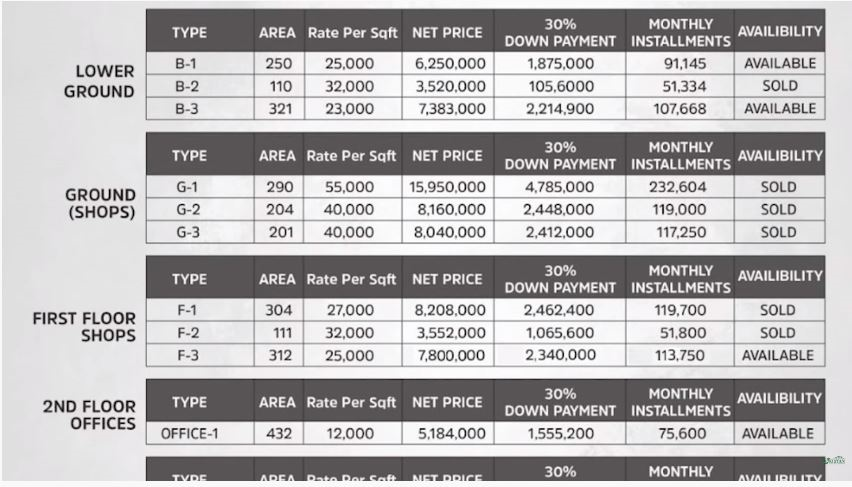 The pricing plan for apartments is given below:

You can visit Sirmaya.com for any further assistance or buy a residential or commercial property.