Amanah Noor Residence is a development by Amanah Estates, a developer with a track record of delivering excellent projects. Amanah Noor luxury apartments in Lahore is a 4 towers development built on 18 Kanal land areas. You will get all the basic amenities that fulfill your desires. A residential building with a gated and guarded complex. It is under development and intends to design and develop a long-term project. Where fantasies of an opulent lifestyle will become a reality.
Amanah Noor Residence is offering: Studio apartments, 1-bedroom, and 2-bedroom apartments.
Why You Should Invest In Amanah Noor Residence Apartments?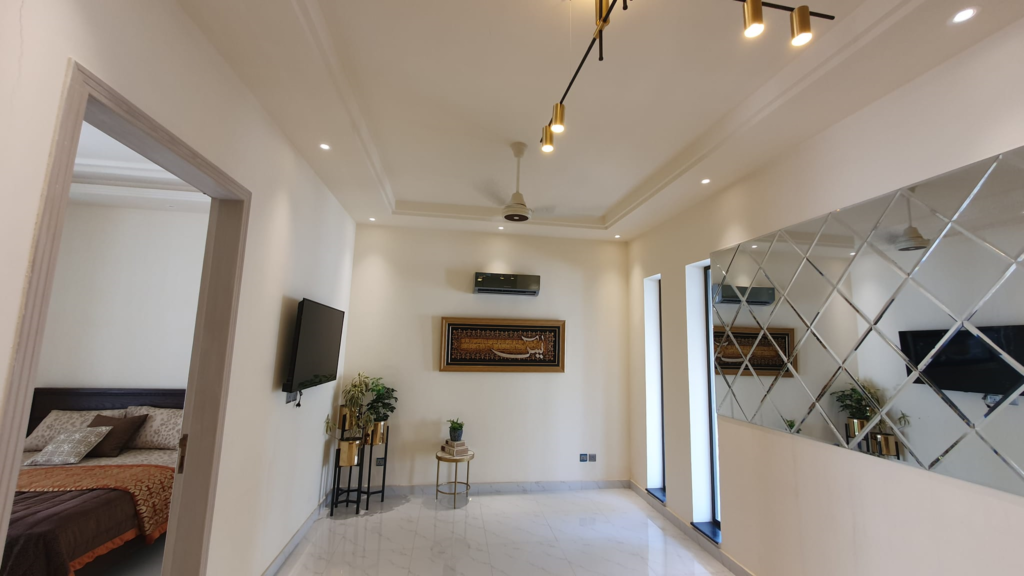 Apartments are preferred among small families and corporate tenants because they are adjacent to urban centers and utilities. Apartments for sale are a terrific investment if you discover one with a reputable leaseholder, fairground rentals, and processing fees. You're comfortable with the building maintenance. Amanah Noor Residence apartments in Lahore is an amazing development project in Lahore. It will give you all the reasons to invest today.
Apartments are more popular among tenants who want to be close to amenities and workplaces. It is not easy to buy an apartment for sale just in the city's heart. If you believe a flat in the center of Lahore city, you will have plenty of competitors. Flats in Lahore or other major cities are typically attractive to itinerant and young, competent professionals. It is due to their urge to reside in big cities since that is where the opportunities are. If you are looking to buy an apartment in Lahore and don't find one. Don't worry! Your hunt comes to an end with Amanah Noor Residence. It is a fabulous project in Wapda town which is closer to all the famous places in Lahore.
Location of Amanah Noor Residence Apartments:
When buying an apartment for sale, the most important thing that most people focus on is the location of their apartment building. Commute becomes more effortless in the city if your apartment is in the heart of the city. What else may you want? Amanah Noor Residence is located in a posh location. It is situated off Mangla Road, Wapda Town, and Lahore. It is in K-block of Wapda town near the Engineers town entrance, making it an ideal spot for living. You will be on a few minutes drive to all the important places in Lahore.
On 2 minutes' drive from Khayaban e Jinnah
A 6-minute drive from Raiwind road
On 10 minute drive from the expo center
On 12 minute drive from Canal
Overview of Amenities:
Any specific or non-essential commodity provided to renters is considered an apartment amenity. Anything that goes above the necessities of a functioning apartment might be regarded as an amenities. When people are looking to buy an apartment, they usually look at the amenities they will get. Amanah Noor Residence will cater to all essential needs of an apartment building to make to feel pampered. Buying an apartment for sale at Amanah Noor Residence will be your best investment. You will get the following amenities:
Peaceful and splendid ambiance
gated community
1 and 2 bedrooms studio apartment
Equipped with all luxuries and facilities of living
Esthetically designed exterior
Elegant interiors
Value-added gym, sauna, and swimming pool
Rooftop gardens
Barbeque area
Kid play area
Outdoor seating area
Car parking
24/7 security with surveillance cameras
What Else Does The Resident Will Get?
Amanah Noor Residence care for people investing in this project and buying apartments in Lahore. There is something special about the residents of these apartments that you may have never heard before. All the residents of this residential complex will get special discounts in Amanah Mall's recreational spaces apart from the opulent lifestyle in these modern flats. These spots include a magic planet, a bowling alley, snooker club, gym, sauna, food court, and 4-screen cinema in Amanah Mall Lahore.
LDA Approved Project:
Amanah Noor Residence is registered from FBR. LDA also approves it. It is an unmatched residential project to introduce lavish living. These luxurious flats in Lahore are providing you an opportunity to gain the highest capital gain in the coming years.
Payment Plans:
3, 4, and 5 years easy installment plans are available for all the investors. Booking starts with a 30% down payment which varies between12-25 lacs. The monthly installment starts from PKR. 35000.
The prices of studio apartments start from Pkr. 4,130,750 while the prices of 1 & 2 bedroom apartments start from Pkr. 5,884,730
Sirmaya.com is a leading real estate platform that brings news and information on all real estate development in Lahore and other major cities of Pakistan. You can visit us to buy or sell any properties all across Pakistan.