Are you looking for a great place to invest your money in Lahore? How about Mall of Kahna? The mall of Kahna is the next big thing in Lahore. Look no further than this interesting blog! It contains some amazing details that may help you make a fortune out of investing in the latest and hottest upcoming property development. That is the Mall of Kahna-The Next Big Thing in Lahore.
Mall of Kahna is a perfect place to start
The Mall of Kahna is being developed by Shak Land Builders and Developers (Pvt) Ltd. It is situated on Lahore's busiest thoroughfare and the best location of the Kahna Main Bazar at Ferozepur Road. MOK is a work of Italian architecture that offers insight into the commercial store in Lahore in the near future. MOK is Ferozepur Road's only LDA-approved project, designed to ensure a stable and sound investment. Mall of Kahna is flanked by heavily inhabited residential properties and faces one of Lahore Development Authority's biggest residential development, the LDA Housing society.
The perfect investment in Lahore!
The Mall of Kahna is the next big thing in Lahore. The project is having all leading brands under one roof.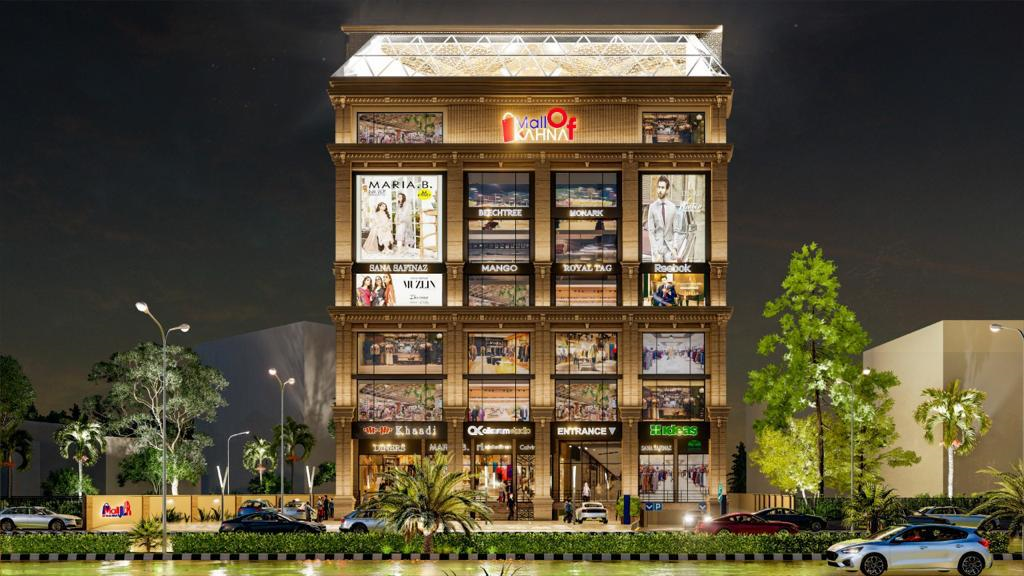 This 10-story Mall along with two spacious basements for parking and storage spaces. Its developers are working on high standards that they want to set at Mall of Kahna. The mall of Kahna will feature all those facilities that are up to date with current trends. All these amenities make Mall Of Kahna a perfect investment opportunity in Lahore.
People from all around Pakistan know that Lahore is a place where new trends emerge and the people have a mind for exploring the new ones and knowledge about them. They know about the old ones, but then something new comes into the market then everybody wants to be there first because competition is getting harder each day.
If you look into some other properties in Lahore, you'll notice that they were planned a while ago but they don't have any kind of upgrades made during these years which makes them feel old as soon as you enter. Most people think that just building these kinds of places is enough but they forget the maintenance part which increases the cost to maintain them and leads to more taxes on their customers.
The best location and the most valuable real estate
Mall _ of_ Kahna will be a shopping paradise located in the heart of Lahore with a unique combination of brands that offers tremendous business opportunities. It is strategically located at Main Bazar Kahna, Ferozepur road just opposite LDA society. In addition to its distinguished location, it will provide easy access to those who are already residents of the vicinity and for those who want to interact with the consumers of the mall. Consumers who live far away will also be attracted due to their unique shopping experience, value-added, wedding banquet, and a wide range of food options.
Mall of Kahna will become a hallmark of state-of-the-art architecture and design in Lahore that exceeds expectations. Mall of Kahna presents an opportunity for investors to establish a presence in one of the area's most modern malls. It is on few minutes' drive from all the famous nearby areas.
Ring road 10-15 mins drive
LDA City 10-15 min
DHA is on 15 min drive
Gajjummata on 10 min drive
Pak Arab society 5min
Kasoor is on 30 mins drive
Invest now and enjoy the benefits later
It is a one-of-a-kind project that will redefine the dynamics of commercial real estate. This iconic project will set the benchmark for all future commercial projects in the city. Mall of Kahna is not just about shopping. This one-of-its-kind retail destination will offer more than a premium shopping experience. From cinemas, food courts, and marts to various outlets, shops, and over a hundred other eateries and cafes, it has everything you could ever want from a mall.
Mall of Kahna will attract people from different aspects of life, therefore making it a perfect venue for ideal businesses. The Mall Of Kahna features dedicated floors for retail stores, international chain stores, a banquet hall, and food courts. Mok is a paradise for investors at a premium location.
The Master Plan
There are hundreds of possibilities for brands to set up their shops on all the floors designated for the retail section. Food courts and open dining restaurants are situated on the sixth floor and rooftop.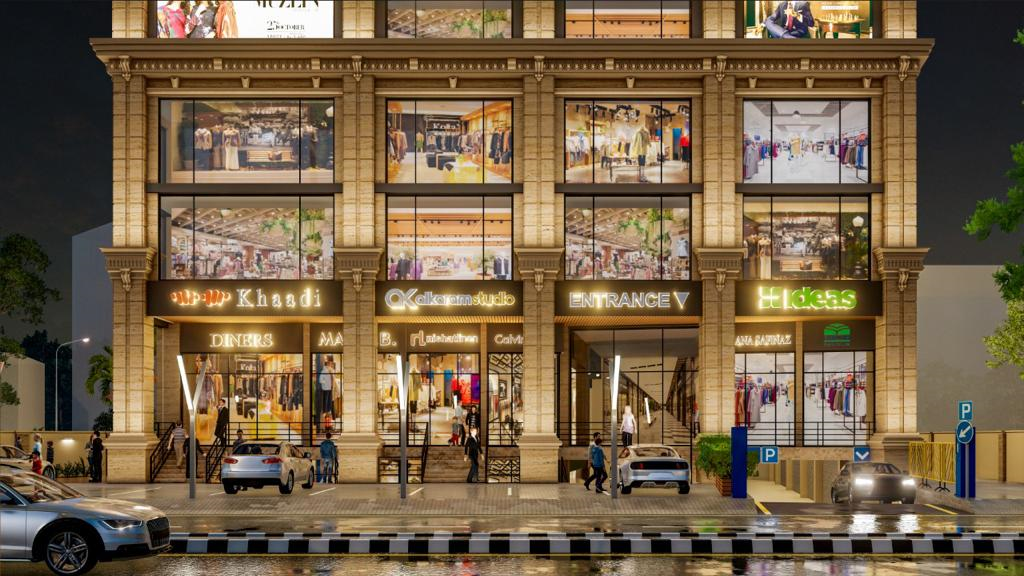 The Mall of Kahna will consist of the following floors:
Parking Floor
MoK will have two designated basement floors for parking.
• Automated Parking System • Car and motorcycle parking spaces • Safe and Secure Parking
Lower Ground Floor
This area is designated for an international supermarket chain. Customers will get the following on this floor:
• Grocery area • Live Bakery station • Vegetable section • Fresh Meat station • Cosmetics department • Personal Care department • Crockery station
Ground Floor
• International Clothing Brands • Domestic Clothing Businesses • Footwear Brands • Personal Care Brand names (International/Domestic)
1st Floor:
On the first floor, global and regional men's apparel brands retailing both eastern and modern apparel will be featured.
Men's Clothing Brands from Around the World
Domestic Brand Outlets
Eastern Wear Clothing
You will get all international and domestic kids to wear brads on this floor. There will be no need to rush on different floors to find clothes for kids. You will get everything for your kid on this floor.
3rd Floor
On the third floor, you'll find new and used cellphone stores, desktops and laptops, and household wares. You will also find the following:
• Gadgets/Accessories • Laptops and Computers • Repair & Maintenance • Consumer Electronics
4th Floor
This floor is designated solely for ladies. On the fourth level, you'll find whatever you need for teenage girls and ladies of all ages, as well as toys and gaming stores.
• Handbags • Ladies Accessories • Fashion Jewelry • Lingerie Shop • Toys Shop • Gaming Shop • Renowned Cosmetics Brands
5th Floor & 6th Floor:
We all know that shopping is never finished without a good time and a delicious supper. The fifth and sixth stories will be dedicated to the Play area, which will feature incredible double heights to accommodate high indoor recreational attractions. There will be something delightful for everyone in a large food court. This floor will feature the following:
Amusement Area
Food Court

International Food Chains
7th Floor
Luxurious banquet spaces will be available on the seventh level for weddings, meetings, conferences, training sessions, and corporate events. The hall will contain the following features: • support for up to 1000 people • a banquet hall • a conference hall • meeting rooms
Rooftop
Visitors will experience wonderful cuisine and music in a pleasant and noise-free atmosphere. You will get open-air restaurants and an activity area on this floor.
Amenities Overview!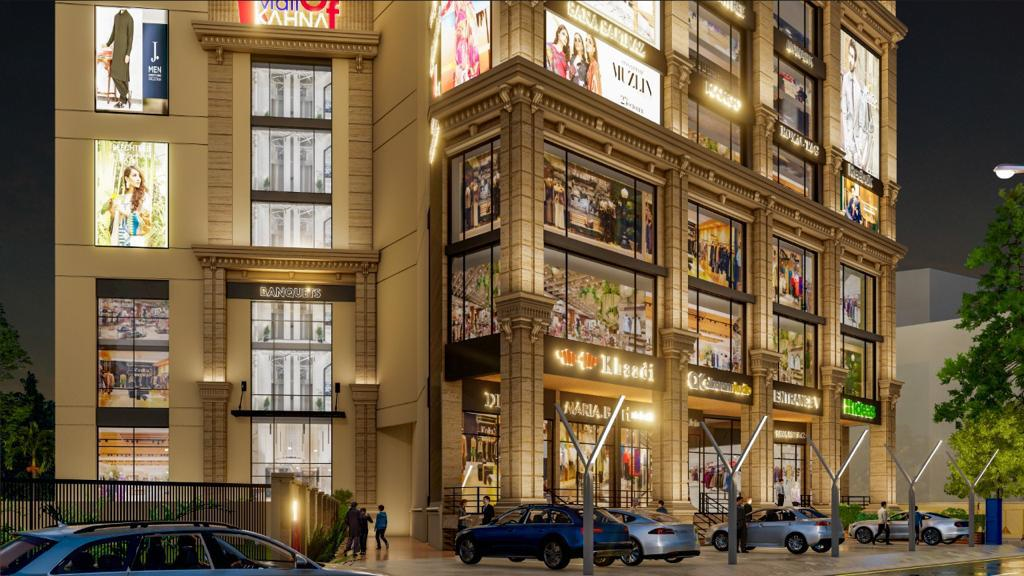 MOK knows the needs and requirements of customers therefore we bring everything under one roof. You can get from groceries to fashion, electronics to cellphones, personal care supplies to wellness, and food to recreation everything at the Mall of Kahna-The Next Big Thing in Lahore. You will definitely experience the most luxurious experience at MOK with world-class facilities. MoK is offering the following amenities:
Speedy Escalators
fast passenger lifts
spacious cargo lifts
High-Tech Security
24/7 CCTV cameras
Backup generators
Domestic Brands
International Brands
Mobiles and electronics
State-of-art firefighting system
Computerized parking system
2 spacious basement parking floors
Dedicated parking area for bikes and cars
International Chain of grocery stores
Eastern and Western Cuisines at the food court
Rooftop restaurant
Gym
Mosque
Gaming Zone
Indoor play area
Magnificent Banquet Hall
Development Phases:
The Mall of Kahna is in the development phase now!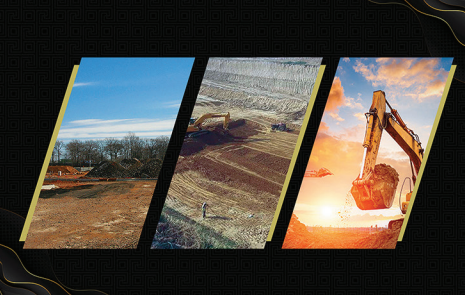 Installment Schedule and Payment Plan
Mall of Kahna-The Next Big Thing In Lahore is offering 3 years easy installment plan. The booking starts with only a 25% down payment. This installment schedule and Payment Plan make it easier for investors to book their spots in the Mall of Kahna.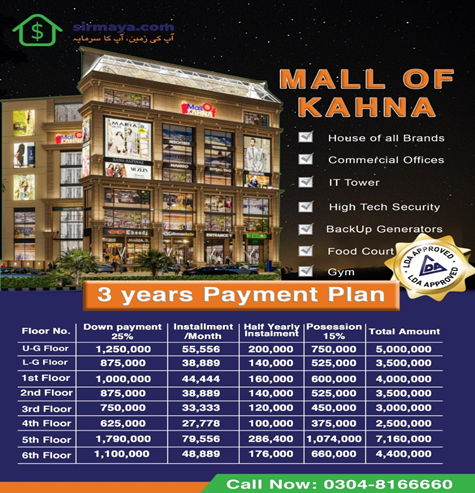 Why invest in Mall of Kahna?
There are many advantages of getting your shop in a shopping mall. You can build customer loyalty because your store will be in a well-known shopping mall. Customers will automatically acknowledge your products and service due to your brand presence in a famous mall. This type of confidence takes time to develop and is crucial to any company's sustainability.
Property investment in a shopping mall comes with a slew of advantages and perks. It is not just a reliable and comfortable alternative, but it also offers a consistent stream of revenue. Some people would prefer residential property investment to commercial real estate. However, most investors prefer commercial property investment. Which commercial property will give you the best stream of income than a shop in a popular mall? So, owning a shop in Mall of Kahna is a wise choice.
It is worth investing in Mall of Kahna-The Next Big Thing in Lahore now.
Invest Now in Mall of Kahna-The Next Big Thing In Lahore! Recently, Pakistan has transformed into a spot on the global map for potential investors due to its many economic incentives, strong infrastructure, and limitless potential. For investing at a local level — say, in your own city or town — you can't go wrong with the Mall of Kahna.
For booking and more information, please contact Sirmaya.com. Because when opportunity knocks, you should open the door!