Inflationary pressures and volatile housing markets can put prospective customers betwixt a rock and a hard place. However, market dynamics may make purchasing a home today a wise move. One of them is Hyperinflation. It's how today's current rising inflation will affect you now or in the future if you're looking to buy a house for sale these days but stressed out due to competitive property rates. No worries! We got you covered with an entirely affordable and low-cost residential project in Lahore. It will give you an opportunity to make an investment in Lahore by purchasing a ready-to-move-in house for sale in this residential project. Aliya Homes is one of the most unique and affordable residential projects in Lahore that strives to provide you with not just a plot for sale but luxurious homes in Lahore.
What is Aliya Homes?
Aliya Homes is a new housing society in the suburbs of Lahore city. It aims to facilitate people to buy affordable readymade homes in Lahore. So you will get fully built homes and not mere plots for sale. Buying own home is the dream of every individual. Keeping this in mind, the developers have introduced low-budget houses for sale to their valuable customers at cost-effective prices with high-quality construction and sufficient space. Their motto is Homes for everyone! There is no need to buy plots for sale in Lahore and then save money to build a home. Aliya homes are the ultimate solution to buying ready-made homes in Lahore at the most affordable prices with easy investment plans.
Location:
Aliya homes residential society is located at a prime location near Gulshan-e-Chung Multan Road, Lahore, Punjab, Pakistan. It is hardly 10 mins drive from Thokar Niaz Baig. This society is close to all of its famous shopping complexes and tourist sites. It is crossed by a ring road, reducing the considerable distance between each prominent spot in Lahore. The development is near other housing societies like Bahria Town, Eden Canal Vilas Park, Aabpara Housing Society, and Izmir Town.
Modern Architectural Design:
The Homes for sale in this housing society in Lahore will be constructed with all of today's modern amenities in consideration. All the homes will be built with contemporary architectural styles. Customers can acquire low-cost homes with high-standard constructions and enough space in these double-story luxury homes.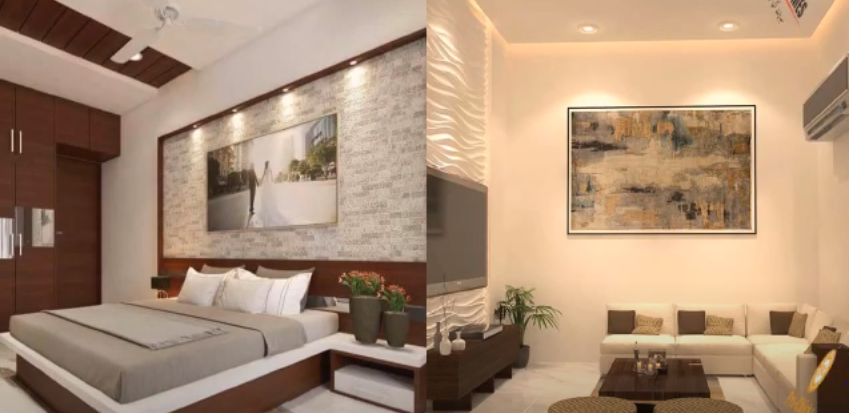 Aliya Homes care for their clients' comfort and convenience. Being away from the central city will not deprive their customers of necessities. The society will be well developed and provide you with all the following amenities.
Water
Gas
Electricity
Sewerage System
Wide roads
School
Society Mosque
Society Park
House Categories:
Aliya Homes is providing 2.5 Marla and 3 Marla double-story houses for sale in Lahore.
2.5 Marla home for sale is of 970 sqft. while 3 Marla homes for sale is (1144 sqft.)
Home Plan for 2.5 Marla House: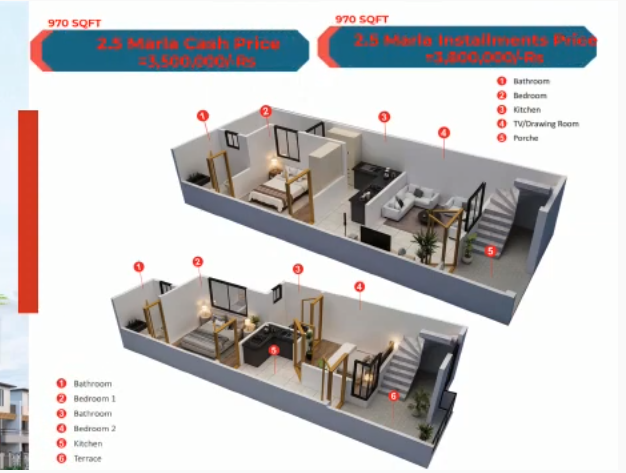 2 Bedrooms
Attach Baths
Drawing Room
2 Kitchen
Porche
Terrace
Home Plan for 3 Marla House: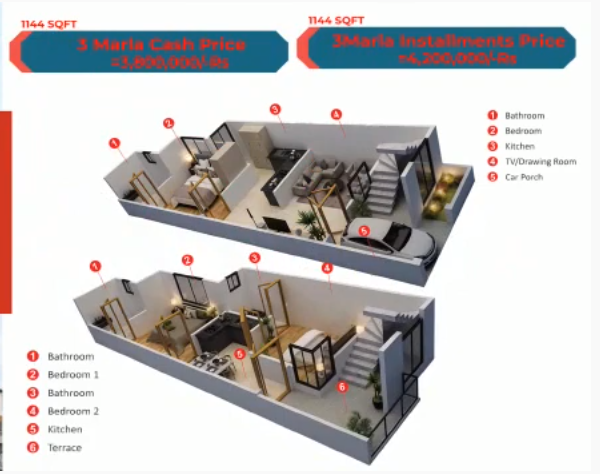 3 Master Bedrooms
Attach Baths
2 Kitchen
Drawing Room
Lawn
Terrace
Car Parking
How to Book your home?
Getting your own home in this Hyperinflation is not an easy task. People work hard to get enough money to get their own homes throughout their lives. It is difficult for working middle-class people to get a modern and contemporary architectural home at affordable rates. Aliya Homes understood your condition and wanted to fulfill the dream of your own home. You can book your home on cash payment or follow an easy installment plan to get possession within two years. The booking Plan is as follows:
Booking Starts from:
You can book your home at the most affordable price of Rs. 250,000/- only
1. Booking of homes in monthly installments:
Aliya Homes provide a 5-year affordable plan for the remaining Installments. You have to invest only 20,000 per month as a monthly installment.
2. Booking of homes at cash payment:
If you want to make a cash payment, you can book a 2.5 Marla, 970 sq. ft. home for only 35 lacs, while a 3 Marla, 970 sq. ft. home will be available for only 38 lacs price.
What's the Catch of buying a home in Aliya Homes?
Aliya homes are bringing a unique investment plan for all of its clients. If you book your home with a complete cash payment, they will give you Rs.10,000 as an incentive each month on your entire payment till the time of possession for 2 years. If, in any case, the possession time gets longer than 2 years, your incentive payment will get doubled for every month.
Contact Sirmaya.com now for more details and to book your dream home. We will make the entire process of buying a property in Lahore smooth for you.