Nova City Peshawar is a residential society in Peshawar with a breathtaking location where all your fantasies come true. The Nova City Builders are planning a property investment development project in Peshawar. Nova City Peshawar would attempt to deliver a sustained and magnificent residential society to the residents of KPK when they first arrive in the province.
The development of this residential society which was launched in January 2022, is now in the planning stages, with the concept needing to be completed. This development is poised to take over the Peshawar and KPK property markets with its never-before-seen advancement ambitions. Keep an eye out on this blog for further information about Nova City Peshawar's developments and why you should buy plots for sale in this residential society in Peshawar.
Details of the Construction Process in Nova City Peshawar:
Nova Developers are sure to flourish in the KPK industry after quickly capturing the interest of individuals from all around Pakistan and overseas. Nova City Peshawar will offer a touch of elegance and luxury living to the city of Peshawar by delivering state-of-the-art facilities and luxuries, bearing in view the standards expected by Nova City Islamabad and Nova One in Lahore.
The housing project will provide abundant opportunities for enterprises to thrive by supplying commercial plots at exorbitant prices. This society is in the development phase right now. You can make an early investment and buy plots for sale in this residential society.
Location:
The project in Peshawar is conveniently located on the M1 Motorway. It is just a few minutes' drive away from big cities such as Charsadda, Mardan, Risalpur, and Nowshera. You can access this residential society with ease from Bacha Khan University, Peshawar Ring Road, and the Northern Bypass of Peshawar. The estimated distance of major roads is given below:
Mardan Road is about a 7-minute drive away.
T Road is about a 19-minute drive from N-5/G.
Charsadda Road is about a 13-minute drive away.
DHQ Hospital Road is about a 5-minute drive away.
Peshawar Ring Road is around a 23-minute drive away.
Bacha Khan University is about a 15-minute drive away.
Peshawar Northern Bypass is around a 19-minute drive away.
Bacha Khan International Airport is about a 51-minute drive away.
While the estimated distance between major cities is:
Peshawar is about a 19-minute drive away.
Nowshera City is about a 36-minute drive away.
Charsadda City is about a 12-minute drive away.
Risalpur City is around a 25-minute drive away.
Mardan City is about a 23-minute drive away.
Categories of Plots for Sale:
This housing project like all other societies offers residential and commercial plots for sale in the city of Peshawar.
Residential Plots
Nova City Peshawar is still in the early stages of development, with residential plots available at exceptionally low prices. Residential plots are assigned to certain blocks in the residential complex so that residents can easily access all of the facilities and conveniences they need to live better lives. All the property Investors currently have a great chance to buy residential plots in the categories of 3 Marla, 5 Marla, 7 Marla, 10 Marla, and 1 Kanal. Nova City Peshawar housing project will cater to a wide range of the population in Pakistan by supplying multiple kinds of plots.
Commercial Plots
Nova City Peshawar Developers are still working on finalizing their ideas for the commercial units. Even so, the planning of commercial plots has shown incredible potential. Nova City Peshawar will be a global business industry with top-quality foreign brands while also allowing Pakistani commercial enterprises to prosper monetarily by giving various services and amenities for businesses.
Overview of Amenities:
Sustainable Development
Specialized Commercial Zone
Supplies of water and electricity
Gated and guarded community
Mosques
Public Healthcare
Leisure pursuits
School/Colleges
Parks
Underground fittings and sewerage system
Carpeted Roads
Sports Arena
Why it is Worth Buying Plots for Sale Here?
There are numerous advantages to investing in Nova City Peshawar. To begin with, Nova City Peshawar is situated in a prominent and convenient position. Moreover, it offers a wide range of investment options with a high added value. Nova City is also a registered society with approval from the relevant officials. Apart from these factors, Nova City offers sophisticated luxuries and conveniences.
Also, Nova City Peshawar's major purpose is to give investors with a sale and solid investment opportunity. Nova City Peshawar offers the highest profit opportunities. Real estate investors are also drawn to the city's infrastructures and desirability. The specific overseas districts cater to the needs of Pakistanis living abroad.
Payment Plan of Plots for Sale:
Nova City Peshawar is among the most economical investing societies in the city, offering a wide range of amenities and services. It also features a flexible payment plan, which enhances the value to consumers looking to purchase residential or commercial land. You can check the details of the payment plans for the house here!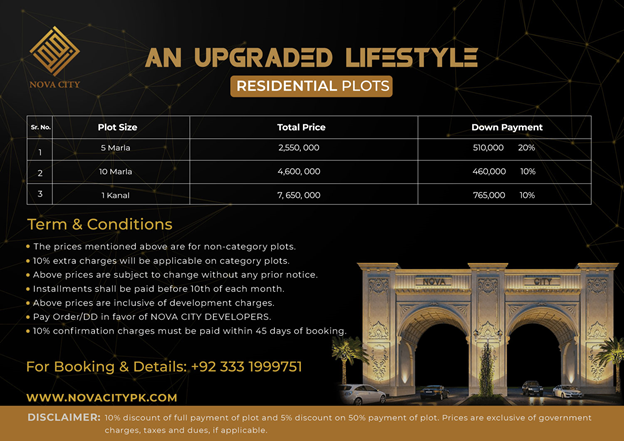 Keep following Sirmaya.com blogs for more exciting investment opportunities. I hope this guide gives you a brief overview of why you should invest in this residential society and buy plots for sale for a secure future?