Future of Real Estate Industry
Economic stability in Pakistan is on the edge of a long rocky road. Despite the bold efforts of young people to raise voices in defence of Pakistan's fickle progress, various factors seem to be blocking the path to a brighter future. Sirmaya.com President Sheikh Shakil Ahmed shared his view on Pakistan's controversial issue known as "unemployment" at a televised event.
Importance of Industrial Zone Developments
The challenges our country faces today are more acute than ever, and industrial development plays a vital role in fighting unemployment and revitalizing the Pakistani economy. Chairman of Sirmaya stated that the real estate industry is a nation's backbone. He highlighted the need to create job opportunities for this country's representatives to ensure their bright future.
At this stage, unemployment is the biggest problem facing Pakistan, and the only survivors of this economic test are successful businessmen and entrepreneurs. However, the main concerns concern the middle class, lower-middle-class, and lower class in our country, who can hardly afford the routine living expenses.
At this stage, we are in dire need of industrial development to solve the stalled problem of unemployment. Moreover, everyone deserves a chance to live better, not just survive. The expenses we incur daily include daily groceries, electricity bills, travel expenses, taxes, home rent, medical bills, fuel, and education. Taken together, these costs depend to some extent on the individual.
Pakistan's Hope for Survival – Industrial and Educational Development
The debate lingers to highlight Pakistan's educational aspects and how our citizens' education will lead to great results; however, this idea will only develop with a better employment rate. It is easy to understand it as a cycle, e.g., economic growth requires industrial development, industrial development requires labor, and labor requires a good education.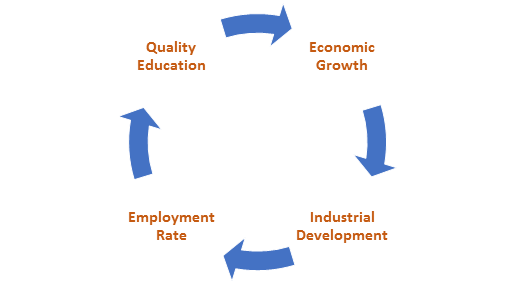 In addition to that, Sheikh Shakil Ahmed CEO of sirmaya.com shared his opinion on how important it is for the government to provide a less complicated procedure to people to make industries for business people or to join public/private cooperation projects and present a healthy lifestyle proposal and a plan for the development of profitable industrial zones that appear in different places.
This approach is crucial because it produces a win-win situation for the Pakistani people and the government. Furthermore, the fight against the economic crisis and unemployment is now exacerbating the state of despair that grips the entire country. With this approach and visualization of the Pakistani economic corridor structure, Pakistan will shine worldwide, achieving a "bright future."