Blue World City Islamabad is a flagship Project of the BGC-IGC Consortium. This communal living initiative is under development to provide a world-class living at a reasonable price to Pakistanis, particularly overseas Pakistanis. This development initiative also intends to enhance tourism by constructing world-class tourist sites like the Burj Al Arab, Blue Mosque, Rumi Square, Horse Mascots (the world's highest), and Water Theme Park.
Major Landmarks: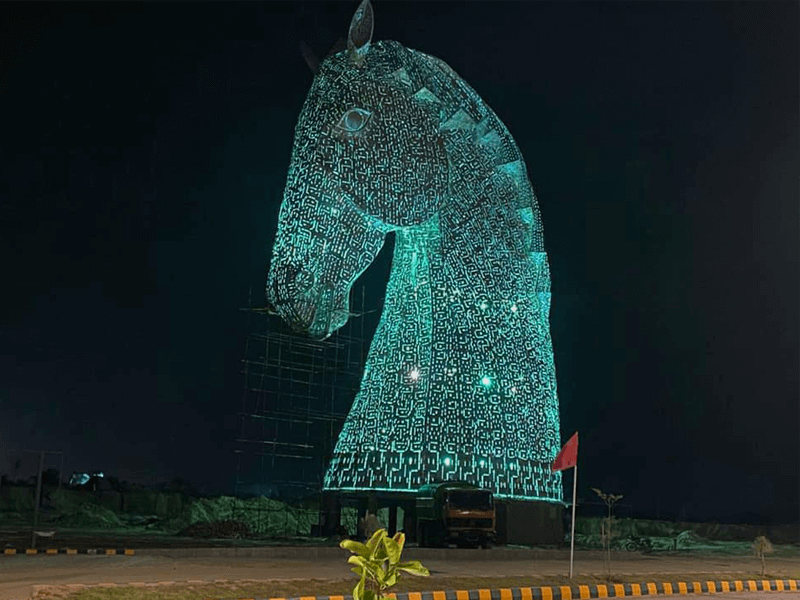 There are many latest developments in the blue world city Islamabad which are un-matchable in Pakistan. You can witness many development wonders. From the Grand Entrance gate to the Horse Mascot structure and corporate office view, you will find replicas of famous tourist sites in Blue World City. Their upcoming development projects include general block, overseas block, Awami Residential Complex, Blue Hills Country Farms, Orbital Apartments, and Blue world economic Zone with a commercial area. The major landmarks areas:
Corporate Office
Night Safari & Zoo
Horse Mascots
Rumi's Square
Water Theme Park
Blue Mosque
Location of Blue World City Islamabad: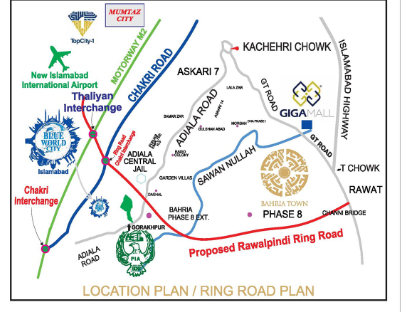 The blue world city is a sophisticated and contemporary residential society in the Islamabad and Rawalpindi metropolitan areas. The Blue Holding Company, which understands the expertise to build massive housing developments, is the builder of this residential project.
Furthermore, the Rawalpindi Development Authority (RDA) has approved this residential society. The most enticing part of this project construction is its location. The Chakri Interchange, the M2 Motorway, Islamabad International Airport, and the Rawalpindi Ring Road are close by. It makes it an attractive place to buy a property for sale.
Life At This Amazing Society:
This residential project aims to provide every necessity to all luxurious facilities to its residents. This luxurious society provides you with the best opportunity to buy plots in Islamabad at an excellent location. Your lifestyle at Blue World City Islamabad will turn your dreams into reality. There is no need to go elsewhere due to the availability of all these amenities in one place. You will have:
Forces school and college system
Water filtration plant
Entertainment Hub
Gated community
Commercial Area
Swimming pools
Shopping malls
Lush green parks
Sports complex
Carpeted roads
Luxury hotels
Spa/Sauna
Hospitals
Mosque
Café
Gyms
3D Cineplex
Police station
Graveyard
24/7 operational Security rooms
Approvals:
If you want to buy plots for sale in Blue world city but aren't sure that your investment will be secure or not. Let me tell you that Lahore Development Authorities approve this residential society in Islamabad. Not only is this, but the Blue World city Islamabad residential society is also approved by the District council.
School and Colleges:
Academic institutes are one of the significant concerns of Parents when it comes to buying a house for sale or even a plot for sale in any residential society. The Blue World City has taken this issue seriously. You will be amazed to know that your children can get their education in the Forces School Flagship Campus Blue World. What else can you ask for?
The master plan of the school shows that it will cater to all the basic necessities of your child's academic and physical growth. The school will have vast parking space, an admin block, Spacious halls for indoor games, auditorium and exam halls, a cafeteria, swimming pool, gymnasium, proposed mosque, Senior boys block, Junior school block and a football ground.
Clubs:
Blue World City Islamabad is introducing amazing Polo clubs and Riding clubs. It will facilitate club members with all the amenities. The polo arena will be built in a 1020'×540' area. There will be a stable house. The indoor arena will have a capacity of around 850. The pavilion area will have a capacity of about 1250. There will be separate areas designated for training, players, and staff accommodation. The fodder area will consist of 2.59 acres which are massive.
Paddock will occupy around 1.062 acres of space. Admin and restaurant space will have approximately 50-60 people. The parking area will have room for about 300 vehicles at a time. The riding track will be 10' wide. Not to forget the stunning entrance of the club, you will definitely have a fantastic experience here.
Aren't these details convinced you to buy a property for sale in this gigantic development in Islamabad? There is no doubt that this project will get the attraction of a large number of people due to these clubs and arenas. You can buy a commercial plot for sale for investment purposes if not a residential plot for sale here. You will definitely get good returns on investment.
What you can book?
The Blue world city is not limited to residential plots for sale or commercial plots for sale. You have options of booking plots for farmhouses as well. The sizes of plots of different plots categories and blocks are given below:
Residential Plot Categories:
05 Marla
08 Marla
10 Marla
1 Kanal
2 Kanal
Blue World City Farmhouses plots:
Blue World City Commercial plots:
Blue World City Overseas Block plots:
7 Marla
10 Marla
14 Marla
1 Kanal
Payment Plan:
The payment plan for all plots for sale is easy. You can opt for their 4 years easy installment plan to book a residential or commercial plot in Blue World City. You can check further details here!
Online Services:
Blue World City Islamabad is not providing state-of-art facilities but also makes reservation and other services process easier. You can take advantage of their online services. You can check ballot results online. Do online registration and APR verification. You can check your application status online. You can use the link on their website to verify the certification of registration. Most importantly there is no need to visit their office for submitting your monthly instalments. You can simply use the online installment payment method to pay your installments just with a click.
For more information and detail contact Sirmaya.com. Keep following our blogs for more useful and interesting information about home décor, renovations and buying or selling plots, houses for sale or other commercial or agricultural lands in Pakistan.